TFC Hydro-Slay Twin Light Blue/Black
Regular price
$6,999.00 USD
Regular price
Sale price
$6,999.00 USD
Unit price
per
Sale
Sold out
This boat was specifically designed with the idea of floating very skinny water where touching the bottom is not an option. This lightweight two-person Cataraft can almost tread water on its own; you can back row or stay in place in currents not allowed by other boats. Especially rafts with a self-bailing bottom and large amount of surface tension. The Two-Person Hydro-Slay shares all the functional features as our One-Person (lightweight, easily transportable, effortlessly maneuverable, exceptionally stable) and allows you and your buddy to access any water without a trailer or put-in… just strap it to the top of your truck/car or throw the frame and pontoon transport bag in the back and you're ready to hit the water. No matter how small or large the water is, the two-man can access and endure any type of water. If portage is necessary, this is your boat! The Two-Person Hydro-Slay is an elite two-man watercraft unmatched in its class. Built to Fish as Hard as You do. FIND YOUR FORGOTTEN WATER.
Frame Color: Twilight (Black/Silver)
Pontoon Color: Light Blue
Straps: Black
Yeti Color/Front Seat: White/Grey
Specs:
1-Inch Schedule 40 Aluminum Pipe
1-Inch Aluminum Fittings
12'x19" Pontoons (with top chafe/double bottom for abrasion resistance)
Capacity: 1000lbs
Weight: 125lbs (Including frame, pontoons, leg locks, diamond plate standing platform)
Frame Width: 52" (Made to fit in a full-size truck bed)
Length: 12 feet
Diamond Plate Standing Platform: installed with "no rattle" stealth tape
Leg locks
TFC storage bags
Anchor System: 8:1 pulley ratio (Harken ball bearing ratchet block)
Tornado Anchor
Oars: Cataract/Sawyer Counter-Balanced
2 Yeti Coolers: with swivel base Aero X rowers' seat, padded front seat, and integrated anchor lock
TFC Ultimate fly rod holders (2)
TFC Custom net/rod holder (2)
TFC Custom adjustable oar towers
Heavy duty Sawyer oar locks/bushings
Split rail: accommodates removable gas and rear mount trolling motor mount rail and entry/exit point
Seat incorporated cup holders (removable)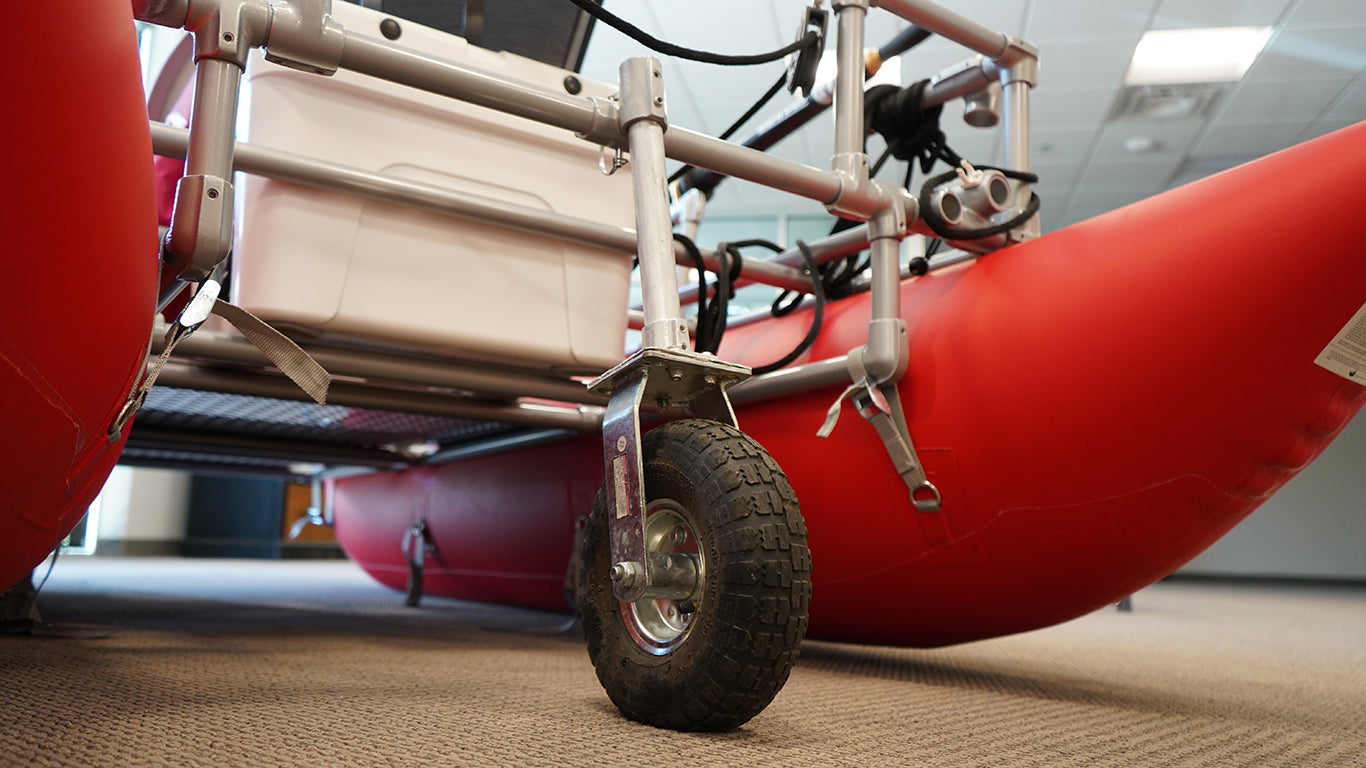 Pair your Hydro-Slay with our accesories
Interested in using a gas/trolling motor? Looking to wheel your boat in remote Put-ins/Takes-outs? Chucking meat and need a stripping basket? Check out our Hydro-Slay Accesories Below!
Boat Accesories